Our Measured Building Surveys are the trusted foundation for Residential and Commercial developments across the UK.
We work with Homeowners, Architects, Property Agents and Landlords on a wide range of developments from private houses to large commercial and industrial buildings.
A Surveybase Measured Building Survey is an accurate record of building structure, architecture, connected services, and fit out. We use the latest digital 3D Laser Scanners and GPS Systems to deliver precision survey measurement.
The data is referenced to an OS Datum and available as 2D Plans, Elevations and Sections.
Why not upgrade to a 3D Survey Model or combine with our Topographical Survey for the ultimate digital survey solution.
3 Tier Measured Building Survey
Solution
We offer a 3-tier approach to Measured Building Surveys and tailor the service to meet your precise objectives and budget. This flexible solution is the result of our experience and commonly requested survey requirements. It is a sensible platform for competitive pricing ensuring you only pay for what your specific development needs.
LEVEL 1 BASIC SURVEY
Level is a Basic Survey focused purely on a building's structural geometry. It includes an external datum with wall thickness, window and door openings, internal floor levels and ceiling heights. This information is available in 2D Floor Plans and Elevations. A Level 1 Survey is appropriate for decorative refurbishment, layout planning and property marketing. It can be combined with our Area Measurement service to form part of the legal conveyance pack.
LEVEL 2 STANDARD SURVEY
Level 2 is a recognised industry standard developed to meet the requirements of property design and construction. The service builds on Level 1 with the addition of external and internal architectural features. Elevations are fully detailed and appropriate for standard planning applications. This information is available as 2D Floor Plans, Elevations and Sections with Roof and Attic Plans added for Loft Conversions.
LEVEL 3 DETAILED SURVEY
A Level 3 survey is designed for Heritage Sites and Listed Buildings. The survey provides a comprehensive record of period architecture. External and internal features are drawn to a finite level of detail appropriate for conservation projects including decorative masonry, stone, brick, timber, and plaster work. As with Level 2, this information is available in Floor Plans, Elevations and Sections with Roof and Attic Plans added for Loft Conversions.
Measured Building Survey
Options
We offer a comprehensive Measured Building Survey service to deliver everything you need for design, planning, and construction.
Floor Plans
A record of internal space by floor including levels and heights including external and partition walls and openings.
Elevation Plans
Accurate plans of existing building facades showing key structural and architectural features; roof, windows, and doors.
Section Plans
A vertical slice through the building showing key structural information; floor levels and ceiling heights.
Roof Plan
Existing roof geometry with ridge and eave lines, walls, chimney, and roof lights.
Attic Plan
A detailed plan of the roof structure including joists, purlins, and trusses
As a professional practice we offer additional Measured Building Survey services to meet unique design challenges and demands of statutory authorities.
Building Services
Option to add the layout of building services, heating, electrical and plumbing.
Area Measurement Calculation
Option to upgrade the floor plans to include internal Area Measurement (GEA, GIA, NIA)
Lease & Conveyance Plans
Legal preparation of floor plans for property marketing, lease, and conveyance
Land Registry Compliant Plans
Legal preparation of floor plans for Land Registry applications.
We tailor our Measured Building Survey service to meet the needs of your project. Each survey benefits from a bespoke survey specification sheet. The specification is developed by the dedicated Survey Manager and used to guide the site survey, plan processing and quality assurance.
Frequently Asked
Questions
These are some of the most frequently asked questions concerning our Measured Building Survey service.
Why Do I Need A Measured Building Survey?
You will need a Measured Building Survey if you are planning structural alterations to your property. The resulting plans, sections and elevations will be used by your Architect to prepare design proposals and submit a planning application.
What Type of Buildings Do You Survey?
We routinely survey private homes, mansion houses, country estates, residential buildings, and a wide variety of commercial property. Using the latest 3D Laser Scanners, we have the capability to survey small and complex property through to large vacuous buildings.
What Is The Price Of A Measured Building Survey?
Each property is different in shape and size and with unique survey objectives. We offer a free, no obligation quotation service typically providing a competitive fixed price quote within 48 hours. Please send your survey brief to hello@surveybase.co.uk or use our Online Quote Portal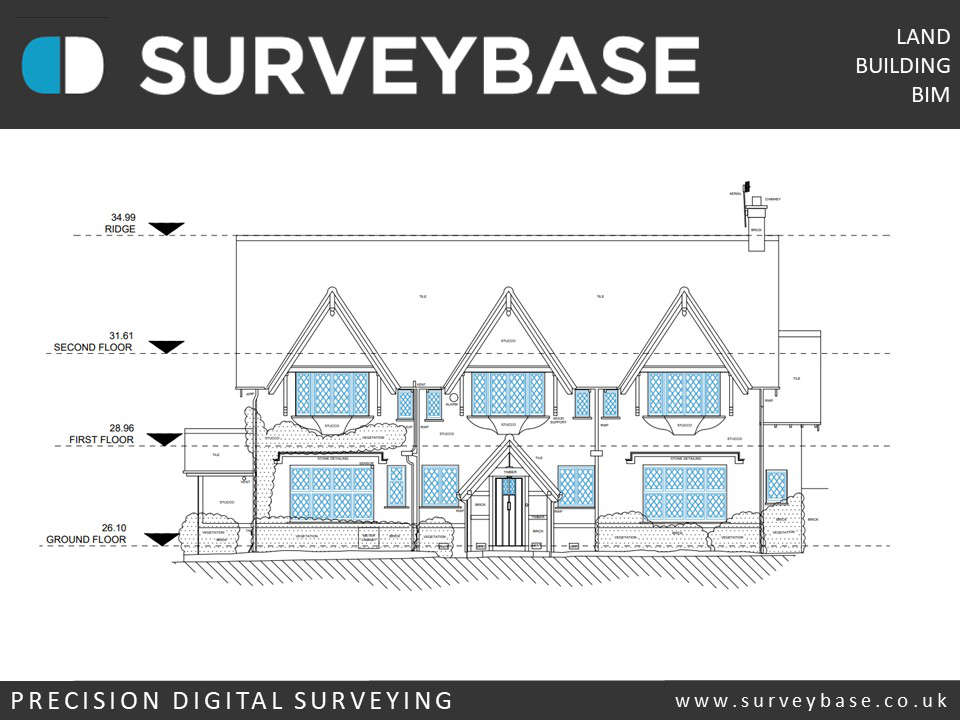 Residential Case Study - Bristol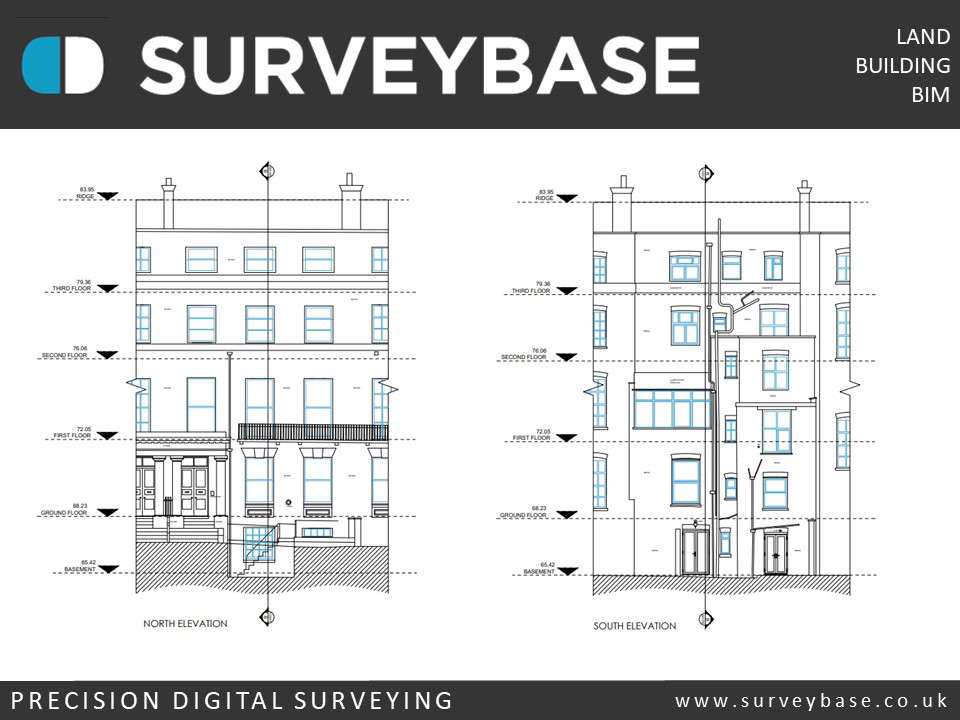 Residential Case Study - Cheltenham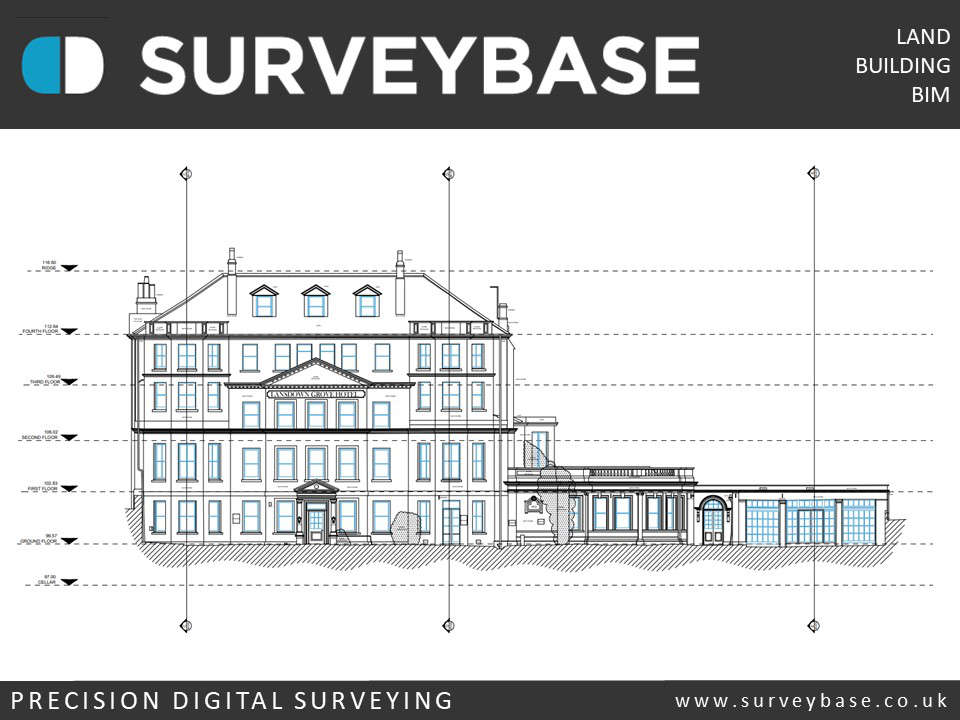 Commercial Case Study - Bath
Get In Touch
To find out more please contact the Surveybase Team at hello@surveybase.co.uk, Bath 01225 314370, London 02039 066892