Topographical Survey
Surveybase have provided Topographical Surveys since foundation in 1998. Our experience includes the large scale industrial, commercial and housing sites through to private residence.
A Topographical Survey is an accurate record of the natural and man-made features within a specified area. The resulting Site Plan will present buildings, boundaries, services, landscaping, and site levels as outlined in the project brief.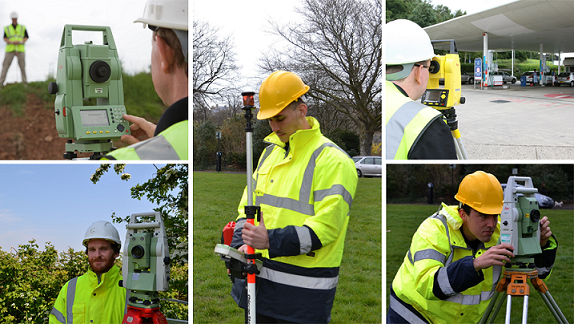 Surveybase use precision GPS and Robotic Total Stations, Laser Scanners, and LiDAR UAV's. The survey data is referenced to a GPS (Ordnance Survey) datum and processed in 2D or 3D AutoCAD or used to generate a Revit (BIM) Model.
Our Topographical Surveys are the trusted foundation for informed decisions throughout design and significantly reduce the risk of unexpected issues during construction.
We offer 2 levels of Topographical Survey and will tailor each to meet your precise specification.
Level 1 Topographical Survey
L1 is an Outline survey solution. It is designed for Boundary Surveys and Land Registry applications. L1 is suitable for outline planning applications where the detail provided by our full Topographical Survey is not yet required. The survey will be referenced to a GPS datum and plot the boundary extent, site buildings, adjacent property and access from the road.
Level 2 Topographical Survey
L2 is a Full survey solution. It is designed for architectural design and construction. The L2 specification is comprehensive recording every natural and man-made feature with spot levels across the site to a pre-determined grid. The survey will be referenced to GPS / OS coordinates.
Boundary Survey
Surveybase are experts in determining boundaries from historical, local and ordnance survey reference. We have helped settle disputes through the provision of accurate survey records combined with diplomacy and mediation.
Our Boundary Survey plans are Land Registry compliant and tailored to meet the requirements of UK conveyance solicitors.
On request we will "set-out" the boundary line using wooden stakes and work with your appointed fencing contractor to secure your property.
Setting Out Survey
Surveybase possess the expertise and technology to accurately set out construction projects. Our experience includes domestic and non-domestic sites from private residence through to education, healthcare and industrial developments.
We prefer to work from our own Topographical Survey using the control points established during the initial site investigation. We can work from an alternative survey if the control points can be reliably located.
We upload the Architects design coordinates to our GPS and Total Station instruments and carefully map these to site. The geometry is cross checked to ensure accuracy.
Monitoring Survey
Our precision Monitoring Survey service includes control of construction projects and investigation of existing man-made features. Surveybase experience includes major public sector developments and heritage sites.
We work in close liaison with site management to coordinate a survey schedule that is appropriate to the nature of investigation. Depending on the objective we deploy GPS, Total Station and Laser Scanning instruments to check construction accuracy or movement. The field data can be delivered in many formats including spreadsheet reports, 2D plans or 3D Revit Model. This information can be compared to the design scheme using CAD overlay or Navisworks clash detection software.
UAV LiDAR Survey
Through strategic partnership we offer access to the latest LiDAR surveying solutions. LiDAR produces detailed digital terrain models and 3D point clouds that could not be achieved using traditional surveying techniques or photogrammetry.
The accuracy of LiDAR makes it ideal for scenarios where large areas of terrain must be measured and monitored, especially in areas of dense vegetation, and for specialist projects such as for measuring powerline 'sag' and vegetation proximity.
LiDAR systems were historically fitted to helicopters a fact that made the process expensive. However recent developments in technology have led to UAV platforms capable of providing the service with 100 times the accuracy and at a fraction of the cost.
Surveybase CAD Technicians process LiDAR data as a 2D Topographical survey or 3D Revit ground model.
Service Options
We will develop a survey specification that meets your precise requirements. Typical service options include;
2D Site Plans
2D Site Sections
3D Points "XYZ" File
MX Genio File
Contours
3D CAD Strings
3D Revit Model
Specialist Support and Advice
If you require further information on our Topographical Surveying services or need professional advice, please contact David Ascott direct; david.ascott@surveybase.co.uk.
Request A Quotation
If you are seeking a quotation, please contact Jane Spencer; jane.spencer@surveybase.co.uk
---