Building Information Modelling
The AEC industry is transitioning to the digital era. Ultimately the management of design projects will follow the BIM (Building Information Modelling) methodology. For UK Government projects BIM is now a mandatory requirement.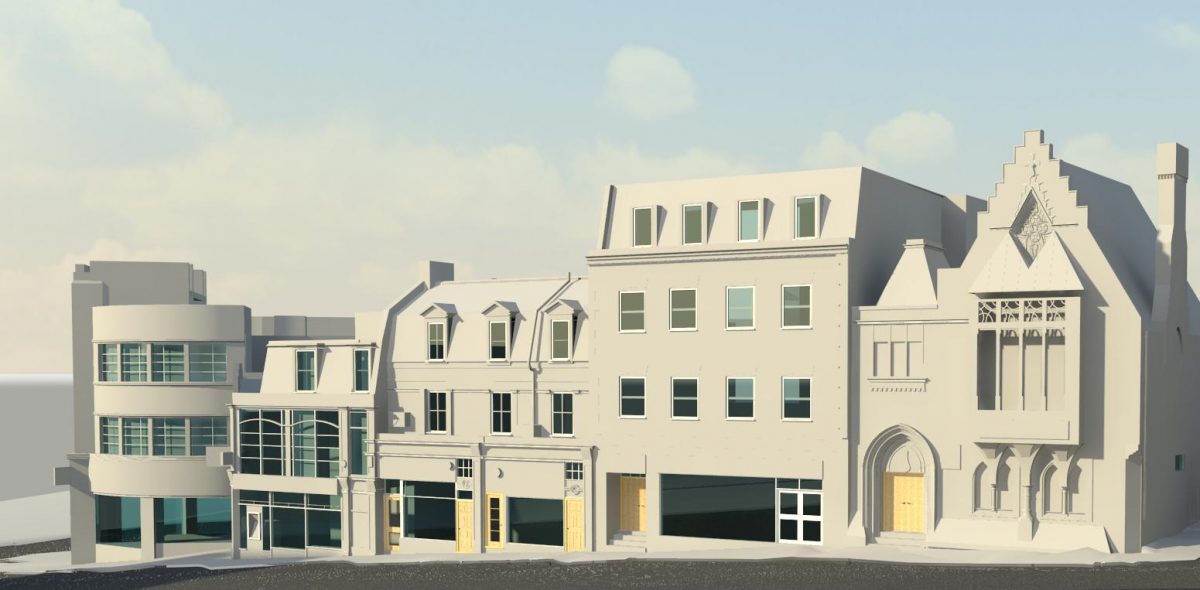 3D Survey Experts
We are recognised 3D Survey consultants generating precision 3D Survey models for public and private sector development. We have a wealth of experience that spans the AEC project spectrum and are proven experts in modelling historic sites and heritage property. The model prepared for the renovation of Aberystwyth Universities Old College building is seen as exemplar in the evolution of 3D Surveying.
Revit Specialists
Surveybase use Autodesk's powerful Revit modelling platform. Revit is the preferred BIM software for high profile design projects across the globe. It has the capability to export to many 3D formats including a .IFC file.
Revit System Families
We only use Revit's' own system families in our models. This ensures modelling integrity and interoperability with all BIM software applications.
3 Tier Modelling Solution
We offer an efficient 3D Survey (BIM) solution based on 3 proceeding Levels of Detail (LOD) along with a bespoke service option.
L100: Shell Model
An L100 Shell Model is a precision 3D Survey of building geometry. It delivers a model with structural features including external walls, roof, floors, ceilings, window and door openings, internal walls, columns, and beams.
L200: Architectural Model
An L200 Architectural Model builds on the detail of L100 with the addition of primary architectural features detailed to 1:100 scale. This includes external masonry features, window and door frames, doors, internal masonry, and joinery such as timber beams, joists and purlins. Further options include sanitary fittings, fitted and loose furniture and MEP (Building Services)
L300: Heritage Model
L300 is a premium survey solution appropriate for Listed Buildings and Historic Sites. Architectural features are detailed to 1:50 scale capturing building geometry greater than 20mm. A typical specification includes external walls, masonry and joinery features along with similar internal detail. The specification can be extended with the addition of sanitary fittings, fitted and loose furniture and MEP (Building Services
Bespoke BIM Specification
For greater flexibility we offer a bespoke 3D Survey solution. We recognise the 3 tier BIM solution will not meet the requirements of every project. The bespoke BIM specification provides an opportunity to select specific land and building components stating their precise modelling detail; L100 through to L300.
This logical approach provides focus on the features that matter most whilst helping to manage modelling costs
MEP (Building Services)
Each Level of modelling can be further enhanced with the addition of a detailed MEP (Building Services) layout. This service is available on an exposed surface level or the intrusive mapping of concealed MEP services above suspended ceilings.
MEP options include mains connection points, electrical and lighting, fire and security, data systems, heating and ventilation (HVAC) and plant layout.
Landscape & Topographical Models
Our 3D Survey solution includes the provision of detailed Landscape Models. By using 3D Topographical data, we generate precise ground models including 3D contours and levels.
This solution can be extended further by adding natural and manmade landscape features including road surfaces, kerbs, paths, street furniture, drainage systems and mains services.
Mass Modelling (Context)
The immediate built environment is an important consideration in property development. Our solution is to extend the 3D Survey and capture buildings that overlook the development. This context information is modelled in simplistic mass providing the overall building volume, ridge and eave heights and window openings.
Mesh Modelling
Mesh modelling is an automated process working directly with the point cloud. Mesh models provide a solution to modelling complex geometry such as ornate stone masonry, period ironwork, rock faces, stockpiles, and manmade tunnels. Mesh modelling delivers a high-resolution object without parametric or BIM qualities. Mesh modelling is a precision solution for for a single specialist purpose or part of a wider 3D Survey.
Water Treatment Centres
Surveybase possess specialist expertise in developing models for Water Treatment Centres, Oil and Gas Installations. This unique area of 3D Surveying requires an understanding of mechanical engineering including a recognition of the standard components that make up the 3D scene.
For further examples of this specialist work please visit the Case Study page
Navisworks Quality Audit
Each 3D Survey model is passed through our Navisworks inspection procedure. Navisworks highlights modelling anomalies creating an itemised correction report. Corrections are completed prior to delivery. The Navisworks report is available to Clients on request.
3D Visualisation
We have the software capability to create high resolution visuals and animation to support planning applications and marketing. The data is exported directly from the Revit model and enhanced using rendering software such as 3DS Max and V-Ray.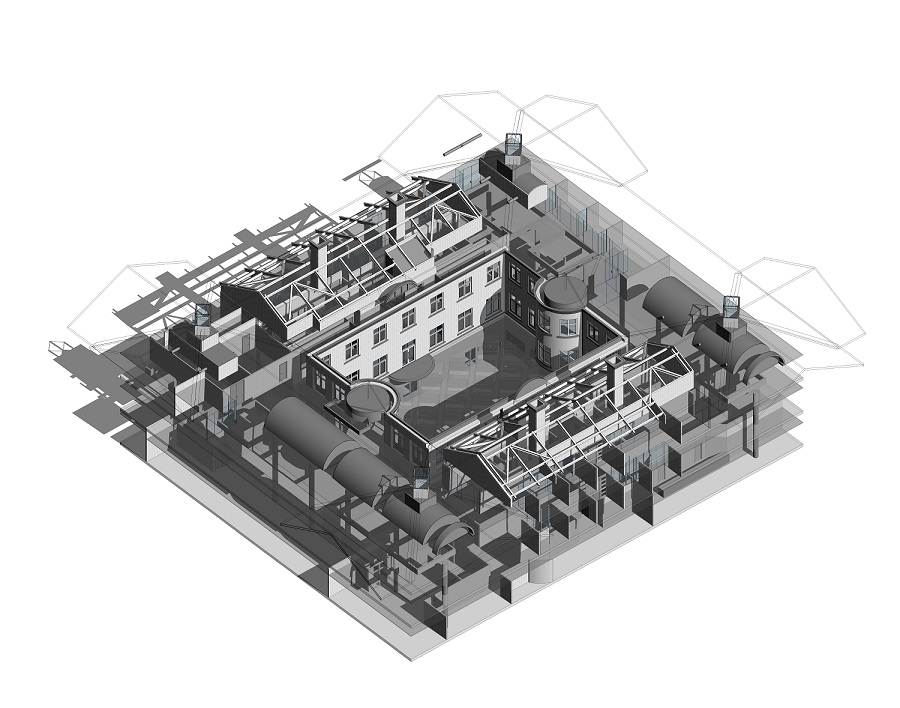 Service Options
Clients can select our L100 Shell, L200 Architectural and L300 Heritage model service or opt for the Bespoke BIM Specification pathway. No matter the approach the journey begins with consultation to understand the models purpose, design objectives and life cycle use.
BIM Consultancy
3 Tier BIM Solution; L100, L200 & L300
Bespoke BIM Specification
MEP (Building Services) Options
Landscape & Topographical Models
Mass Modelling (Context)
Mesh Models
Water Treatment Centres
Navisworks Quality Audit
3D Visualisation
Specialist Support and Advice 
If you require further information on 3D Surveying please contact David Ascott; david.ascott@surveybase.co.uk.
Request A Quotation
If you are seeking a quotation, please use our Online Quote portal or contact David Ascott at david.ascott@surveybase.co.uk